Apr 18, 2018 01:16PM
One of Canada's most renowned gold mining companies is wading into the base metals sector, particularly zinc, as prices continue to trade near their highest level in more than ten years.
Apr 16, 2018 12:41PM
(Kitco News) - One international fund manager is recommending that investors pay more attention to what is happening in the gold market compared to bond markets and interest rates, as the yellow metal continues to hold its ground despite rising real interest rates.
Apr 5, 2018 03:28PM
(Kitco News) - Gold investors do not need to fear higher real interest rates in the U.S. as other factors are supporting the market, according to one fund manager.
Mar 28, 2018 12:49PM
(Kitco News) - While the gold market continues to build bullish momentum, the market still needs one key ingredient that will ultimately drive gold prices through $1,400 an ounce, according to one investment firm.
Mar 26, 2018 03:17PM
Ever-growing strength in the gold market will eventually lead to higher silver prices, according to Randy Smallwood, CEO of Wheaton Precious Metals (NYSE: WPM, TSX: WPM).
Mar 22, 2018 12:21PM
(Kitco News) - A weight has been lifted from the gold market after the Federal Reserve signaled Wednesday that it is in no hurry to raise rates faster than it was already expecting this year, according to one gold analyst.
Mar 21, 2018 10:51PM
Following impressive post-Fed gold gains on Wednesday, the precious metal has a chance to break out of its narrow trading range on the upside, said chief economist at ABC Bullion.
Mar 14, 2018 01:38PM
(Kitco News) - While companies are racing into the future to create the latest digital currency, one company has looked to the past for the ultimate global currency.
Mar 8, 2018 10:34PM
Bitcoin can never replace or even compete with gold, as each asset serves a completely different purpose, founder of Goldmoney Josh Crumb told Kitco News on the sidelines of the Prospectors and Developers Association of Canada (PDAC).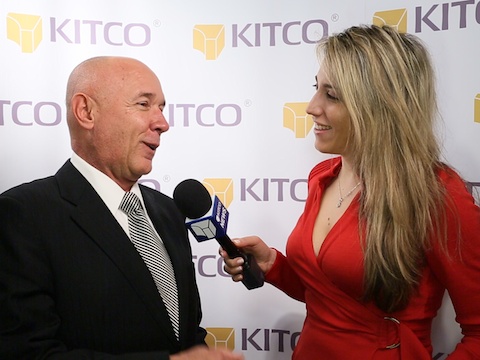 Mar 7, 2018 10:39AM
(Kitco News) - One mining analyst said that he thinks the threat of a global trade war is overblown and investors should instead look at all the good President Donald Trump has done for the mining sector, particularly for companies focused in the U.S.
Mar 6, 2018 12:09PM
(Kitco News) - While junior explorers with their massive upside potential usually attract the most attention during the Prospectors & Developers Association of Canada (PDAC) annual convention, one analyst said that he is paying more attention to the major producers.
Feb 27, 2018 02:23PM
(Kitco News) - Further tightening of U.S. monetary policy will be negative for the gold market in the near term, but according to one research firm, lower prices could represent a long-term buying opportunity.
Selected
50
Results: Showing 1 -
12
| View More
View More