Mining Minutes
Kitco News' Alex Letourneau highlights the Barrick Gold Pascua-Lama project and how it affects Silver Wheaton on this edition of "Mining Minutes." The current state of the metals markets has everyone asking, "is it still feasible to mine at these gold and silver prices?" Watch now for an inside look at the current trends in the mining industry. Kitco News, July 3, 2013.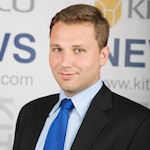 Alex Letourneau
Reporter
Mining Minutes
Mining Reporter Alex Letourneau gives a weekly review of his Mining Minutes, providing insight into the world of mining. Which companies are really making a move and need to be followed? Alex breaks it all down for viewers.
Biography
Alex Letourneau is Kitco News' mining reporter and specialist. His daily mining minutes reports provide an insider look into the mining industry. Through in depth analysis and interviews with key players in the industry, Alex provides up-to-date news and data on mining companies. Alex has also traveled and explored mines first-hand. Alex obtained a Bachelor of Arts in Journalism.