On The Spot
Guest(s): James Grant

Kitco News speaks with James Grant, Editor of Grant's Interest Rate Observer about the gold and silver drop. In a previous interview, Dr. Ron Paul told Kitco News that he would appoint Grant as Fed chairman. Tune in to hear what Grant would do differently than Bernanke to help the US economy. Kitco News, June 20, 2013.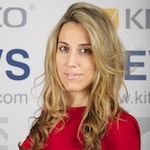 Daniela Cambone
Editor/Producer
On The Spot
Editor-Producer Daniela Cambone travels the globe covering conferences and interviewing key political and economic leaders on the resource industry's hottest topics.
Biography
With over a decade of international experience, Daniela Cambone covers prominent industry events and interviews a number of leading analysts, financiers and political leaders for Kitco News. She began her career covering the Canadian financial and insurance industry and later worked in Europe covering the political and financial scene for the International television station, Press TV. Daniela holds a BA in Broadcast Journalism and an MA in Journalism & Communications.