A Ten-Thousand-Year Opportunity
Kitco Commentaries | Opinions, Ideas and Markets Talk
Featuring views and opinions written by market professionals, not staff journalists.
Would you like to potentially make a lot of money — in metals — in a very short amount of time? Then listen to this tale I'm going to tell. Bear with me. I'm starting at the beginning.
Around 10,000 years ago, an inquisitive fellow in Sumeria took some reddish-orange "stones" from a riverbed.
He got the bright idea of heating one of these stones in a fire. (We can only imagine his friends shaking their heads in disbelief.) And he found that he could hammer it into a useful shape.
It's probable that he made a knife, or a spearpoint. In any case, he made the first tool out of copper.
Civilization kept rolling, and his bright idea spread. Then, about 5,000 years ago, another lightbulb appeared over someone's head. There are arguments over whose exactly. The Sumerians, or Egyptians, or Chinese, or some proto-Edison in Serbia.
In any case, someone added a little tin to the copper. Boom! The Bronze Age dawned.
Bronze is a VERY useful metal. It's stronger and harder than copper and tin. Once bronze was invented, the world would never be the same.
Even today, people are coming up with useful things to add to copper, or adding copper to make other things more useful.
Solar cells and electric vehicle batteries require copper. So much so that demand for this metal is expected to surge. And quickly, too.
In the chart above, BEV is battery electric vehicle, HEV is hybrid and PHEV is plug-in hybrid. A BEV uses 182.98 pounds of copper. Compare that to 50.7 pounds in an ordinary internal combustion engine-powered vehicle.
Yeah, the world is going to need a lot more copper. Demand is projected to expand at a compound annualized growth rate of 4.9% between now and 2023. That's according to Transparency Market Research.
And yet — and this is where your opportunity comes in — copper is not acting like an energy metal of the future.
Instead, it recently acted like we won't need it anymore.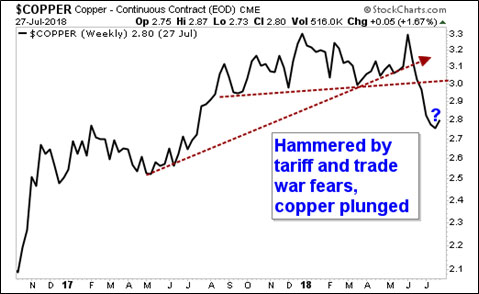 Image credit: StockCharts.com
A bubbling devil's brew of tensions over tariffs and trade wars hammered copper lower. It broke both its uptrend and price support.
But look at the far right side of the chart. Can you see how copper is turning up?
You don't want to read too much into short-term price action. But let me give you three reasons why copper could rocket …
Reason #1: Sentiment is Surging
Sentiment on copper got ultra-bearish. So many people rushed to one side of the boat, it nearly tipped over. Now, sentiment is starting to come back in a big, bullish way.
In fact, traders surveyed by Bloomberg turned bullish on copper prices for the first time in four weeks. They're now the most bullish since April. Why? Let's move on to …
Reason #2. China is Opening the Money Taps
As a trade war with the U.S. rears its ugly head, policy-makers in Beijing aren't sitting on their hands. They're slashing taxes and ramping up infrastructure spending. They'll spend $199 billion (with a "B"!) specifically on new infrastructure.
What is all that new infrastructure spending going to require? You get one guess, and it better be more copper.
And that's not all …
Reason #3. Strike Looms in Copper-rich Chile
The world's largest copper mines are in Chile. One, which is owned by Codelco, just got hit by a strike on Monday night. The other, the world's largest, is Escondida. That one is owned by BHP Billiton (NYSE: BHP). And workers there seem hellbent on a strike, too.
The same thing happened last year. That resulted in a 44-day strike — the longest strike in modern Chilean mining history — and no agreement. Copper prices soared.
Who knows what will happen this year. But if the workers dig in, copper could go on quite the elevator ride.
How Can You Profit
That guy in Sumeria 10,000 years ago did extraordinarily well with copper. He did it by seizing an opportunity that was right in front of everybody. He was just the one with the brains to do it. In hindsight, it might have looked obvious.
Fast forward 10,000 years. Now, you have your opportunity. It's not hiding. It's a pile of money in plain sight. You just have to have the big bronze ones to take it.
If BHP is hit with a strike, it's likely that other copper producers could do very well. After all, they'll be selling into a market with tighter supply. Some names include Freeport-McMoRan (NYSE: FCX), Teck Resources (NYSE: TECK), Turquoise Hill (NYSE: TRQ) and Southern Copper (NYSE: SCCO).
Or if you prefer ETFs, the Global X Copper Miners ETF (NYSE: COPX) holds all those stocks and more.
Just remember, the move in copper will be fast and furious. You want to be positioned BEFORE news breaks. And you want to grab quick profits and get out.
All the best,