CPM Group Releases Its 2023 Gold Market Outlook
Kitco Commentaries | Opinions, Ideas and Markets Talk
Featuring views and opinions written by market professionals, not staff journalists.
Be the first to know when a new trade signal is out! Click here to sign up for e-mail notifications.
In 2022, the price of gold experienced a dramatic increase, reaching unprecedented heights before undergoing a substantial drop, perplexing many bullish observers. CPM Group projected these price fluctuations and shared them with clients to helping them prepare, and positioning them to see strong returns on their investments.
In the 2023 Gold Market Outlook presentation, CPM analysts provide an overview for the reasons behind these price movements, and what industry participants need to anticipate in 2023.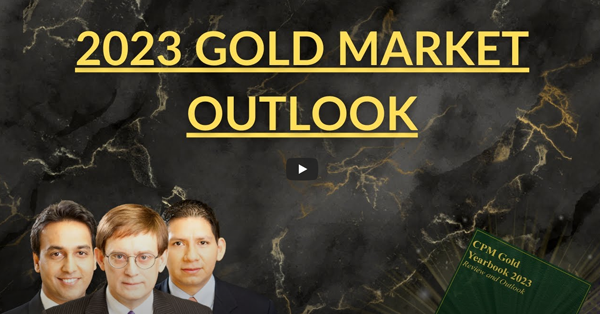 However, The presentation only gives a small taste of CPM Group's view of the market. A much deeper understanding of the market comes from reading CPM Group's Gold Yearbook 2023.
The CPM Gold Yearbook 2023 contains definitive and detailed statistics and analysis on the international gold markets including:
Analysis of supply and demand trends
Bullion and futures market activity
Projections for the current year
Detailed information on mine production
Secondary recovery
Fabrication demand
Investment demand
Official Transactions by central banks
Historical price information
Details and analysis on many other aspects of the global gold market
Click Here To Order Your Copy of the 2023 Gold Yearbook Today

We would also like to thank the following companies for sponsoring the 2023 Gold Yearbook:

Idaho Armored Vaults and Gold Silver Vault
The Institute of Scrap Recycling
Kitco Metals Inc.
Korelin Economics Report
Metallic Group
Monex Precious Metals
NOAH Capital Markets
Profit Plus Precious Metals
Profit Plus Capital Management
Reyna Gold Corp.
Sabin Metal Corporation