Metals on the Move - Newmont Corporation: A Potential Bounce in Precious Metals Market
Kitco Commentaries | Opinions, Ideas and Markets Talk
Featuring views and opinions written by market professionals, not staff journalists.
By Max Auerbach, on behalf of Gareth Soloway
As seasoned traders, at VerifiedInvesting.com, we constantly keep an eye on the setups in the precious metals market. One particular setup that has captured our attention is Newmont Corporation (NEM). In this article, we will delve into the NEM chart and analyze why its current level appears to be primed for a significant bounce.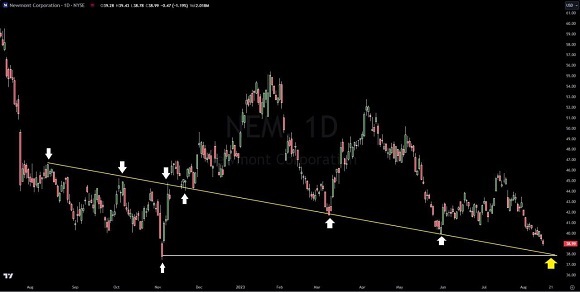 Identifying the Key Structure:
When examining NEM on the daily time frame, one can't miss the yellow downwards sloping line, which holds considerable significance. This line acted as a formidable resistance from July 2022, repeatedly rejecting the price three times. However, November 2022 witnessed a breakout, leading to a noteworthy shift in its behavior. Since then, the line has transformed into strong support, successfully bouncing off three times whenever tested.
Current Set Up:
Considering the most recent test and subsequent bounce in May of this year, NEM experienced a rally of over 11%. However, following the high point in the local trend, it has retraced and is currently heading back towards the support level, which lies just above $38.
Potential Bounce:
Given the historical strength of the support line, we expect NEM to receive another bounce if this level continues to hold. The possibility of a bounce presents an opportune moment for traders to consider entering the market. Stay updated with the latest happenings in the metals market by subscribing to Metals On The Move. For continued expert analysis and trade signals, follow Gareth Soloway on Twitter @GarethSoloway and visit VerifiedInvesting.com.