Good Afternoon,
Apparently, the spec fund plays that started in gold at 8 am NY time on Monday morning, were just that; a short-term play during which the usual string of events once again took place: a) savvy buyers made good money after selling out at previous resistance levels b) a plethora of "to da moon!' cries was heard from the you-know-what camps, and c) the market found itself right about where it started - inside the same trading range, with no visible signs of breakouts in the making. Perhaps a key reversal in the making, is more like it. And, perhaps with a fresh battalion of confused small buyers hanging out on the sidelines wondering why they took an emotional call from their friendly telemarketing coin salesman.
While yesterday's advance in gold represented the best gain in the active contract since the beginning of April, today's initial gains followed by a fairly sharp reversal two hours before the close have to give the bull camp some real strong reasons for staying up and worrying tonight. Gold pared its gains rather quickly, and disappointing open interest numbers were adding to the exodus (in RBC's view at least) as was the lack of blood sugar levels exhibited by the metal near the $920 area. While we might well maintain the $900 on a closing basis, the jury is in absentia on this latest rally and the suspects are wearing fine Armani suits and sporting MacBook Airs.
As we wrote this morning, the question is what happens after the release of the stress test results, and Friday's labor stats. The better question to have asked, perhaps, would have been: what happens when Bernanke reassures the markets about the prospects for economic recovery, and/or (the clincher) what happens when Sharky Fund Alpha decides it just made a bundle on a 36-hour long gold play? The results are out there. On the Kitco price ticker. Top left corner. As regards the price risks, we concur with our London-based competitor BullionDesk that an eventual test of the 845/865 area is not (yet) something to rule out.
So, then, the putative gold cartel evidently neglected to pull the bright red suppressive manipulation trigger for a second morning in a row today, as the metal rose towards a re-test of the $915/$920 resistance level. Must have been busy putting out fires elsewhere... Shocking. 
Hey, one learns shocking new things every day. Like the one about Van Gogh's ear actually being cut of by his friend Paul Gauguin, with a sword, and not by the artist himself following an absinthe stint. Or, the one about a local Chinese county ordering officials to smoke more, in order to help the economy! And we thought we knew it all, eh? Oh, wait, they decided to postpone the 9 o'clock dump into the three o'clock punch. Yeah, that's right, yeah, that's it. Yeah.. that's the ticket! Yeah, you betcha!
New York bullion prices turned and fell to under $900 in the late hours of the Tuesday session, showing a $6.00 per ounce loss, (quoted at $897.00). The signals of US economic stabilization and possible upturn were still fueling gains in white metals, on the other hand. Silver rose 27 cents to $13.30, platinum added $7 to $1125, and palladium was unchanged at  $219 per ounce.
In the background we had a strengthening US dollar at 84.05 on the index, and a no longer marginal decline in crude oil (inventory apprehensions), last seen at $53.75 even per barrel. Last year, the buzzword in commodities for the second half of the year was "demand destruction."  At this point, judging by recent trails etched on charts such as copper's, the operative word is becoming " (hopeful) demand construction." Yes, we "coined" that one. All rights reserved.
Speaking of construction, well, where there is construction - there probably is some demolition taking place, first. In this case, the opposite sequence is occurring. Guaranty Bank of Austin, Texas, is demolishing 16 houses at a housing development in California that it acquired through a foreclosure action. The bank figured it was more cost effective to wreck the houses than try to finish and sell them. Okay. No more copper pipes to steal.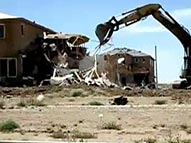 Mr. Bernanke, on the other hand, will be attributed with having called a bottom of some kind today. Here is a summary of what he offered up in Capitol Hill testimony, as relayed by Marketwatch's Greg Robb
"Signs of life from the battered consumer and housing sectors raise hope that the severe recession may be bottoming out and that growth could turn positive later this year, Federal Reserve Board Chairman Ben Bernanke said Tuesday. Businesses will likely need to restock shelves after letting their inventories fall sharply, Bernanke said in testimony on Capitol Hill.
For their part, consumers appear to have adjusted to the downturn and have begun shopping again, and the spring selling season for homes seems to be attracting buyers for the first time in three years, he said.
"We are hopeful that the very sharp decline we saw beginning last fall through early this year will moderate considerably in the near term and we will see positive growth by the end of the year," Bernanke told the Joint Economic Committee.
"The recent data ... suggest that the pace of contraction may be slowing, and they include some tentative signs that final demand, especially demand by households, may be stabilizing," he said. While stopping well-short of giving high fives to the members of Congress, Bernanke was more optimistic than he has been in some time. His remarks add to the sense that officials at the U.S. central bank now believe the Fed's unprecedented actions over the past year are sufficient to generate a recovery.
The Fed has slashed its interest-rate target effectively to zero and has taken over the job of pumping credit into the economy from the crippled banking and securitization markets. The Fed is also buying Treasury securities and mortgage debt.
'The recent data ... suggest that the pace of contraction may be slowing, and they include some tentative signs that final demand, especially demand by households, may be stabilizing.'
— Ben Bernanke
Many economists believe the Fed's policies may ultimately be inflationary, but Bernanke betrayed no hint of fear about rising prices, saying: "In this environment, we can anticipate that inflation will remain low."
One reason prices won't spike is that the prospective recovery is likely to be subpar and only gradually gain momentum, Bernanke said.
In addition, the nation's labor market will continue to be weak "in coming months," he said. Another reason is that consumer expectations about prices have remained stable. Economists believe the Fed will be slow to remove support for the economy. Interest rates are expected to stay in the range slightly above zero through the end of the year.
Bernanke's optimism came with important caveats, however. While conditions in financial markets have improved and a gradual repair of the banking system is underway, any reversals on these two fronts would darken the economic outlook, he said.
"A relapse in financial conditions would be a significant drag on economic activity and could cause the incipient recovery to stall," he said. The results of the government's "stress tests" for 19 major banks and financial institutions are expected to be released later this week. White House spokesman Robert Gibbs said Monday that the Obama administration believes it won't have to ask Congress for more money for banks. Bernanke said he supported this conclusion. Banks that can't tap private markets can convert some of the government's preferred shares into common equity, he said.
Bernanke's testimony put some flesh on the bones of the Federal Open Market Committee's recent policy statement, which spoke of nascent signs of recovery. Bernanke said that the housing market, which has been in the intensive-care unit for three years, has shown signs of renewed vigor.
"Sales of existing homes have been fairly stable since late last year, and sales of new homes have firmed a bit recently, though both remain at depressed levels," Bernanke said. A drop in economic activity overseas may also be nearing its end, he said. Business investment remains weak, Bernanke said. However, companies have slashed inventories and production could turn around, he said.
"An important influence on the near-term economic outlook is the extent to which businesses have been able to shed the unwanted inventories that they accumulated as sales turned down sharply last year," Bernanke said. Many economists and Fed officials are focusing on the central bank's "exit strategy," and some of them believe the Fed will have to be quick to hike rates and sell some of the securities that it has bought over the past year.
The economy contracted at an annual rate of more than 6% in the past two quarters, the worst decline in the post World War II era. Economists expect a "less negative" drop of 2% in the April-June quarter before a return to positive growth in the third quarter as consumer spending improves and businesses boost production. The economic-stimulus package signed into law by President Barack Obama soon after he took office is expected to boost growth as well.
But analysts at UBS described these as "one-time" factors. "Whether there will be a sustained recovery heading into 2010 will depend on jobs," the UBS economic team wrote in a note to clients. Bernanke said that the unemployment rate will trend higher into next year but will peak before it reaches the 10% level.
In some respects, the signs of this incipient economic recovery are also being interpreted as harbingers (welcome ones at this point) of higher-than-current levels of inflation. We all recall Japan-based talk circa five years ago about 'desirable levels of inflation' that did not materialize. Most recently, Japanese stats indicate deflation is still clouding the country's economic skies, and is refusing to let them clear. That's the problem with deflation, once it takes root. And, why, Team Bernanke is sprinting so hard to avoid it.
Happy Trading,
Jon Nadler
Senior Analyst
Kitco Bullion Dealers Montreal
****
Disclaimer: The views expressed in this article are those of the author and may not reflect those of Kitco Inc. The author has made every effort to ensure accuracy of information provided; however, neither Kitco Inc. nor the author can guarantee such accuracy. This article is strictly for informational purposes only. It is not a solicitation to make any exchange in precious metal products, commodities, securities or other financial instruments. Kitco Inc. and the author of this article do not accept culpability for losses and/ or damages arising from the use of this publication.