'Gold Is In A 3rd Year Of A Bull Market, With Long Way To Run' - Jim Rickards
(Kitco News) - It is not just about the economic and political headlines, according to the best-selling author, Jim Rickards, who said that the current gold bull market is being driven by fundamentals.
"We are in the third year of a bull market with a very long way to run," Jim Rickards told Kitco News on the sidelines of the Vancouver Resource Investment Conference. "The fundamentals are very positive for gold."
Rickards also highlighted some of the things to watch for in 2018, including a trade and currency war with China, heightened conflict with North Korea, and a possible impeachment of the U.S. President Donald Trump, if Democrats win the midterm elections in November.
"If Democrats win November's elections, they will go straight to impeachment procedures," Rickards said. "Any kind of uncertainty or fear factor is going to drive gold higher. But, I emphasize, the fundamentals are good even if none of these things happen."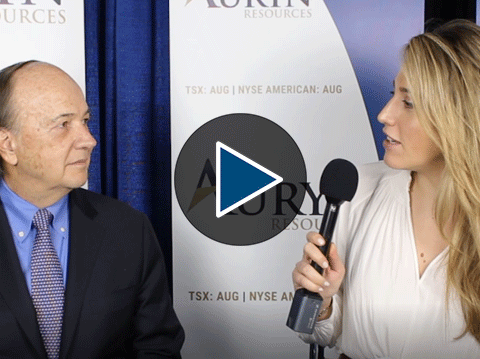 This is a third major gold bull market in Rickards' lifetime. The first one was between 1971-1980 when gold went up over 2,000%, the second one was between 1999-2011 when gold rose 655%, and the third started in December 2015.
"Gold is up 27% since [December 2015]. And in 2016-2017, gold [saw] first back-to-back year gains since 20011-2012. So, 2018, will be a breakout year," Rickards noted.
But, the best-selling author, warned investors "to be careful of what you wish for," as gold only preserves investors' purchasing power.
"If gold is $5,000, oil is probably $400 and the price of everything is doubled or tripled. So, you are not necessarily ahead of the game, but importantly, you are not behind the game and your wealth is still intact," he said.
Rickards is famous for his prediction of gold rising to $10,000 an ounce within the next 40 years.
"This number is based on analysis — that is approximately the implied non-deflationary price of gold in a gold-backed monetary system," he said.
"If there is a liquidity crisis or a financial panic, which I expect, then [central bankers] will need to restore confidence in the international monetary system. They don't necessarily have to go to gold, but they might. If they do, you've got to get the non-deflationary price. Given the money supply and the amount of gold, that price is close to $10,000 an ounce. It is not a made up number," he elaborated.
Rickards is the New York Times best-selling author of Currency Wars: The Making of the Next Global Crisis, The Death of Money: The Coming Collapse of the International Monetary System, The New Case for Gold, and The Road to Ruin: The Global Elites' Secret Plan for the Next Financial Crisis.
Kitco's Peter Hug on #gold at #VRIC18: We can hit a $1,425, assuming the $1,365 level gets taken out | @DanielaCambone @Cambridge | https://t.co/J0joAJgFMP pic.twitter.com/yIbSLFOQpy

— Kitco NEWS (@KitcoNewsNOW) January 23, 2018