Investors Should Focus On What Trump Has Done For Mining – Mickey Fulp
(Kitco News) - One mining analyst said that he thinks the threat of a global trade war is overblown and investors should instead look at all the good President Donald Trump has done for the mining sector, particularly for companies focused in the U.S.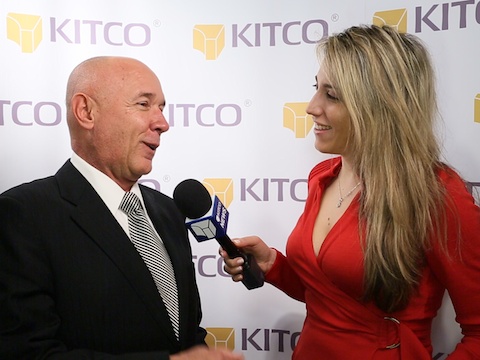 Mickey Fulp, creator of the Mercenary Geologist newsletter, said in an interview with Kitco News on the sidelines of the 2018 Prospectors & Developers Association of Canada (PDAC) convention that he expects Trump to ultimately provide exemptions for critical allies to his proposed steel and aluminum tariffs.
The threat of a global trade war has risen as markets reacted to the surprise departure of Trump's economic advisor Gary Cohn. However, Fulp said that he is not paying too much attention to the market chatter. He added that putting tariffs on steel and aluminum from Canada doesn't make a lot of sense.
"The two economies are two intertwined," he said. "Canada needs America as much as America needs Canada. But Trump is the consummate businessman I think he is using the tariffs as a negotiating tool."
Instead of focusing on theoretical uncertainty, Fulp said that investors should focus on what Trump as actually done, specifically for the mining sector. Trump's commitment to deregulation has breathed new life into American mining projects, said Fulp.
"Trump is changing the economic paradigm in the U.S.," he said. "Deregulation is making mining more attractive because companies have to deal with less red tape."
Because of Trump's policies, Fulp said that he is heavily focused on U.S.-based projects as he thinks these are the companies with the most growth potential. The list of companies he likes includes Trilogy Metals (NYSE: TMQ, TSX: TMQ) as it explores its Arctic deposit in Alaska; he is also watching Integra Resources (TSX.V: ITR) as it starts its drill program at its Idaho-based project; Fulp said he also likes Ely Gold Royalties (TSX.V: ELY) as it develops a portfolio of assets based in Nevada; and Allegiant Gold (TSX.V: AUAU), which also exploring projects in Nevada.
Platinum Over Gold
While Fulp sees the potential for U.S. gold explorers, he said that when it comes to the precious metal, he is buying platinum over gold.
"I have been buying platinum for the last two or three years because its ratio with gold is out of whack and can't last," he said.
Currently platinum is trading at a more than $300 discount to gold. Historically the grey metal has traded with a premium to gold. April gold futures last traded at $1,330. an ounce; meanwhile, April platinum futures last traded at $957 an ounce.
Not only does platinum has a strong jewelry market, but global growth should help boost the metal's industrial usage. Platinum is the critical component in catalytic converters, which is used to reduce harmful exhausted emissions. While platinum is mainly used in diesel engines, Fulp noted that the metal can be used in gasoline vehicles as well.
"Because prices are so attractive, I think you will start to see companies switch back to platinum. It is much more effective catalyst than palladium," he said.