Jim Rogers Launches New AI-Based ETF 'BIKR'
(Kitco News) - Legendary investor Jim Rogers, who is bullish on commodities, launched an AI-based exchange traded fund (ETF) in the global macro space on Thursday that combines his own knowledge with artificial intelligence.
The Rogers AI Global Macro ETF (NYSE Arca: BIKR) was the creation of a collaborative effort between Ocean Capital Advisors LLC and the ETF Managers Group (ETFMG).
What's unique about this ETF is that it balances out Rogers' expertise with artificial intelligence (AI), which analyzes all the incoming macroeconomic data and tracks shifts in market sentiment.
"BIKR seeks to provide investors with an optimally weighted global portfolio – holding primarily single-country ETFs – based on macroeconomic factors by leveraging the capabilities of AI and the multi-decade expertise of Jim Rogers to find, track and project leading economic indicators," the press release stated.
Jim Rogers became a chairman of Ocean Capital Advisors less than a year ago when he was approached with this idea by the founder of Ocean Capital Advisors Manuel Aarón Fajardo García.
"It was September of 2017 when a committee from Ocean Capital Advisors, myself included, went to Chicago to meet with James B. Rogers to present the idea behind a fund we created to exploit a long-term derivative pricing inefficiency," Fajardo wrote in a LinkedIn post on Thursday.
The fund's goal is to reach financial objectives by focusing on global equity markets.
The ETF is based on an index developed by Fajardo's team for Rogers called the Rogers AI Global Macro Index. It consists of single-country ETFs and covers 39 distinct countries so far.
Emerging markets dominate the fund, with the largest country allocations in the index being Brazil (7.15%), South Korea (4.17%), Hong Kong (3.96%), and Mexico (3.54%). On top of that, 24.65% is allocated to the Treasury ETF.
Rogers said that the BIKR ETF is part of a new trend that will only continue to evolve.
"The internet and artificial intelligence are changing and have changed everything we know including finance and investing," Rogers said in the press release. "I hope we get it right. We will all be extremely pleased someday if we do."
The AI algorithm that Fajardo created was named Cassandra, who now interacts with Rogers to create "a dialog between human and machine," according to the founder of Ocean Capital Advisors.
"One of the best interactions Cassandra and Rogers have had up to date happened when Cassandra suddenly forecasted a nearly 30% chance for a market crash in the U.S. of dimensions superior to 50%, something that Rogers has been saying for a long time," Fajardo wrote.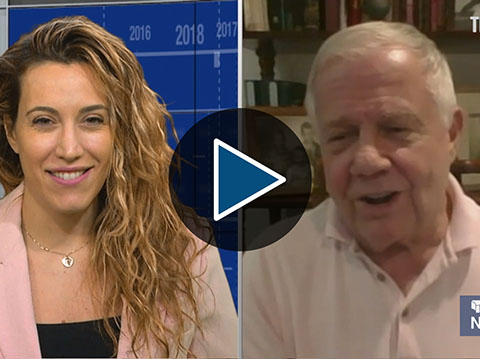 Rogers expressed a similar gloomy view on equities when speaking to Kitco News in an interview earlier this year.
"Soon something's going to happen that will make everyone happy again and the market will go up one more time, and that will probably be the last hoorah. Next year will be not a lot of fun," Rogers said back in April. "It's been ten years since we have had a bear market, that is very, very unusual so the next bear market is going to be the worst in my lifetime."
Rogers added that the U.S. equity correction could easily be over 50%.