Aug 3, 2020 02:53PM
(Kitco News) - This summer's massive gold price rally could be a sign that the market is losing confidence in the U.S. dollar as the world's reserve currency, according to Horizons ETFs portfolio manager Nick Piquard.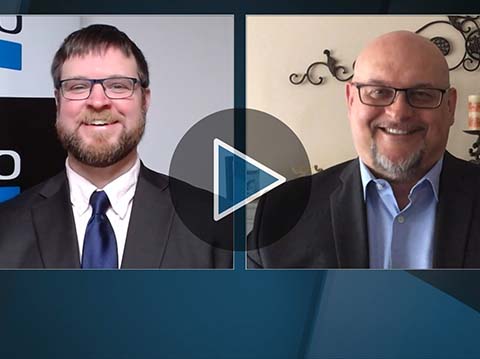 Jul 24, 2020 10:47AM
(Kitco News) -
Jul 14, 2020 11:57AM
(Kitco News) - Speculators who are waiting for bitcoin to either skyrocket to record-highs in a week or plunge back to below $4,000 are wasting their time as the days of massive bitcoin volatility are likely over, according to one fintech CEO.
Jul 1, 2020 03:51PM
(Kitco News) - The gold market is moving fast this year and unless investors pay attention to the price action, especially in the gold equities space, they might end up missing out, said Lion Selection Group executive director Hedley Widdup.
Jun 26, 2020 08:38AM
(Kitco News) - Equities of gold-mining companies still appear undervalued based on a historical comparison of where they were trading relative to the price of gold during the last bull-market cycle, said Caesar Bryan, portfolio manager of the Gabelli Gold Fund (symbol GOLDX for AAA shares and GLDIX for institutional class of shares).
Jun 23, 2020 02:10PM
(Kitco News) - With share prices of gold producers having already rallied sharply in the last three months, the Midas Fund (MIDSX) is increasingly looking toward smaller producers in its efforts to find companies with the most upside potential, the fund's managers said.
Jun 10, 2020 11:16AM
(Kitco News) - Gold prices should "comfortably break through $1,800 an ounce" whenever the sharp rally in equities stalls, while palladium could end up the strongest of the precious metals in 2020, said Philip Newman, director and a founding partner with the London-based consultancy Metals Focus.
Jun 4, 2020 12:02PM
(Kitco News) - US Bank Wealth Management has a "constructive" view on gold prices and sees a role for the yellow metal in a portfolio as a diversifier, said Rob Haworth, senior investment strategy director.
May 26, 2020 11:17AM
(Kitco News) - Silver could benefit from optimism about increased industrial demand as economies reopen following the COVID-19 pandemic at the same time the metal also draws investment demand from those worried about a second wave of the virus, said Rohit Savant, director of research with CPM Group.
May 21, 2020 04:49PM
(Kitco News) - There is a lot of volatility ahead for gold, whether it be this year or this decade, with new investors embracing the precious metal in its traditional or digital forms, according to Digix co-founder and COO Shaun Djie.
Apr 9, 2020 07:46AM
(Kitco News) - Gold producers collectively appear better positioned to weather an expected recession brought on by the COVID-19 pandemic than other sectors of the economy, said Joe Foster, portfolio manager of Van Eck International Investors Gold Fund (INIVX).
Apr 3, 2020 09:40AM
(Kitco News) - Look for strong balance sheets, pay attention to Australian producers and consider royalty/streaming companies.
Selected
50
Results: Showing 1 -
12
| View More
View More