Guest(s): Lyn Alden Founder, Lyn Alden Investment Strategy

Lyn Alden, Founder of Lyn Alden Strategy, and Michelle Makori, Lead Anchor and Editor-in-Chief at Kitco News, discuss the growing importance of Bitcoin as a political campaign issue and its increasing support from both Republicans and Democrats. Lyn also discusses misconceptions regarding energy use of Bitcoin mining. Alden and Makori spoke at the Bitcoin 2023 conference in Miami.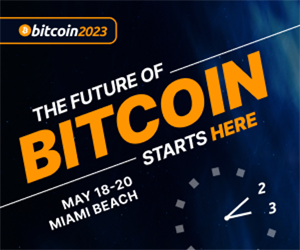 Bitcoin Miami 2023
Bitcoin 2023 - the world's largest Bitcoin Conference - is returning to Miami Beach! Day one is Industry Day - with a focus on business-minded panels and discussions, plus top-tier networking opportunities. General admission days two and three are open to all passholders and will feature panels, keynotes, and workshops with speakers like Michael Lewis, Michael Saylor, Jack Mallers, Lyn Alden, Alex Gladstein, and more!