Guest(s): Ronald-Peter Stoeferle , fund manager & researcher, Incrementum AG

Too many indicators are flashing red to avoid a recession, noted Ronald-Peter Stoferle, Managing Partner, Incrementum AG.
Last week Stoferle spoke to Kitco Mining at Deutsche Goldmesse in Frankfurt. Stoferle is author of the 'In Gold We Trust' report.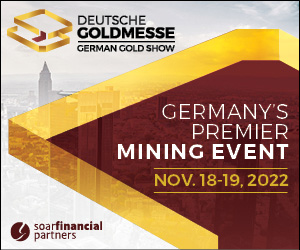 Deutsche Goldmesse November 2022
Exclusive two-day mining event featuring internationally renowned keynote speakers and 35 carefully considered companies in a range of commodities and stages from explorers to producers. Offering live engagement between company management and investors, professionally organized 1-on-1 meeting onsite, and 15-minute company presentations.