Guest(s): John LaForge Head of Real Asset Strategy, Wells Fargo

Commodities will be outperformers in 2020 due to a host of fundamental macroeconomic factors, this according to John LaForge, head of real asset strategy at Wells Fargo.
"Gold is really moving very closely with interest rates, particularly the long-end of the curve. So that's what I would focus on when it comes to gold," LaForge told Kitco News.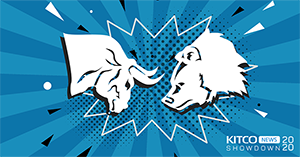 Outlook 2020
2020 looks to be another year of significant uncertainty as many market trends appear to be on a collision course with each other: the U.S./China trade war, Brexit, global debt vs. growth, the U.S. dollar vs. gold, bitcoin vs. gold…the list is nearly endless. For this reason, the editorial team at Kitco News decided the theme of this year's outlook is Showdown 2020. Don't miss all our exclusive coverage on how these factors could impact your investment decisions.