Guest(s): Peter Schiff Senior Economist, Chief Market Strategist, Euro Pacific Capital

As the Fed expands their balance sheet in the form of "unofficial" quantitative easing, inflation will rise, which will push gold prices up said Peter Schiff, CEO of Euro Pacific Capital.
"I think the price of gold is going up next year, so I want to own it, but I don't know how much is going to go up, but I do believe that once we really start to take off, gold can go from $1,500 to $2,000 very quickly," Schiff told Kitco News.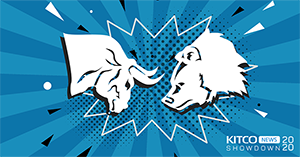 Outlook 2020
2020 looks to be another year of significant uncertainty as many market trends appear to be on a collision course with each other: the U.S./China trade war, Brexit, global debt vs. growth, the U.S. dollar vs. gold, bitcoin vs. gold…the list is nearly endless. For this reason, the editorial team at Kitco News decided the theme of this year's outlook is Showdown 2020. Don't miss all our exclusive coverage on how these factors could impact your investment decisions.