Guest(s): Doug Casey Founder, Casey Research

Volatility is bubbling under the surface as another economic downturn, much greater than anything we've seen before, is coming, this according to Doug Casey, founder of Casey Research.
"I've been saying we're going to have a Greater Depression for years. It's going to be much worse, much different, and much longer lasting than the unpleasantness of 1929 to 1946," Casey told Kitco News.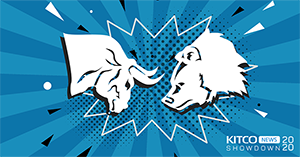 Outlook 2020
2020 looks to be another year of significant uncertainty as many market trends appear to be on a collision course with each other: the U.S./China trade war, Brexit, global debt vs. growth, the U.S. dollar vs. gold, bitcoin vs. gold…the list is nearly endless. For this reason, the editorial team at Kitco News decided the theme of this year's outlook is Showdown 2020. Don't miss all our exclusive coverage on how these factors could impact your investment decisions.