Guest(s): Robert Breedlove Founder & CEO, Parallax Digital
Mark Moss Founder & CEO, Market Disruptors

Robert Breedlove of the What is Money podcast and Mark Moss of the Mark Moss Show discuss how fiat currencies 'enslave' people and fracture the economy, why Bitcoin is the perfect sound money solution, and why governments will push CBDCs through despite public and political resistance.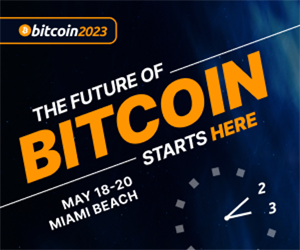 Bitcoin Miami 2023
Bitcoin 2023 - the world's largest Bitcoin Conference - is returning to Miami Beach! Day one is Industry Day - with a focus on business-minded panels and discussions, plus top-tier networking opportunities. General admission days two and three are open to all passholders and will feature panels, keynotes, and workshops with speakers like Michael Lewis, Michael Saylor, Jack Mallers, Lyn Alden, Alex Gladstein, and more!