Guest(s): Anthony Margarit , President&CEO, K2 Gold Corp

Anthony Margarit, President and CEO of K2 Gold Corp., gives a breakdown of major milestones within the Yukon mining scene. Margarit also shares what his company is focused on and K2's goals for the next 12 months. He spoke to Kitco Mining at the New Orleans Investment Conference in early November.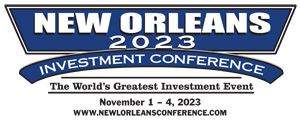 New Orleans Investment Conference 2023
The New Orleans Investment Conference is the one place where the world's most sophisticated investors gather every year to discover new opportunities and strategies, exchange ideas, plan for the coming year and enjoy the camaraderie of like-minded individuals in America's most fascinating and entertaining city.